CARTRIDGE- CELEBRATE WITH

FLORISH

CUT 10.79 WIDTH
DESIGN PAPER- THRIFT STORE COLLECTION BY AUTUMN LEAVES.
STICKLE

PLATINUM
COLORBOX

INK
WILD

ORCHILD

FLOWER
RIBBON FROM STASH
BLING
BOX WAS MADE USING MY

CRAFTERS

COMPANION...WITH STURDY

CARDSTOCK

.
SEEMS FITTING TO DO A GIVEAWAY ALONG THE LINE OF

CRAFTERS

COMPANION.
ALL YOU HAVE TO DO FOR THE GIVEAWAY TO WIN THE ABOVE STAMPS...IS BECOME A FOLLOWER IF YOU WOULD BE SO KIND...AND JUST LEAVE A COMMENT
TELLING ME YOUR FAVORITE PART OF EASTER.
MINE IS OF COURSE CELEBRATING THE

RESURRECTION

OF JESUS CHRIST AND FAMILY TIME...
NOW MAKE SURE TO VISIT ALL THE STOPS SO YOU CAN SEE WHAT WONDERFUL CREATIONS ARE MADE....BE BLESSED!!! I will be chosing my winner by Monday the 18th.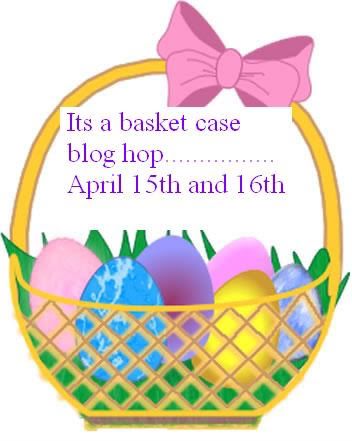 "It's a Basket Case" Blog Hop (April 15-16)!! Here's a list of the ladies participating... Start
HERE
...
Have fun hopping along....
Entering this project into Crafters companion USA challenge blog...box is made by using the crafters companion. I love that tool...