Here is a wonderful find that I popped across this morning. Me and my hubby we running a few errands and did breakfast...afterwards we popped by a couple yard sales in the next county over...and I found this huge 1980 Sears catalog. It is in mint condition...The gentleman was asking $5 and I asked if he would go $3 and he said yes....Woot...hoo!
Now this ia an awesome find...it works perfectly!!!!! Looks awesome too!!! I had one of these when I was young....so it brings back such great memories.
Another find...these last two are from Goodwill....Can you believe they were only $10 a piece. Perfect working toys...I am sooooooooo excited that I found such pristine antique toys. This Fisher Price toy actually ticks as it moves....tickled pink!!!
No creations today....My oldest has been out with his girlfiend all day...and my hubby took the other boys to hunting camp. So nice and quiet night at home.
Watching a movie while browsing the internet tonight.
Hope you all have a super blessed Sunday!!!
Smiles...always, Tammy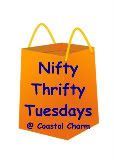 I've linked up to Linda's Coastal Charm party...