Here is my newest creation....I made all the flowers out of ribbon....added antique ribbon, pearls, and earrings....It was so much fun to making it. It is time consuming as it took me a few days to make. Lots of hand sewing too....
Such pretty colors together....I love that antique ribbon from Goodwill.
Also...My mom gave me some of her antique jewelry that didn't have pairs.
So I was able to add some pieces to this necklace.
Going to wear it to my Mom's tea party this weekend.
It has been a rainy day here...Still pretty sick. Bad cold is not going away and still not hearing... Boys are doing great and we have been quite busy as usual. Thank goodness practice is canceled...probably the game tomorrow as well. The fields will be to wet. Have a wonderful rest of the week. I should have another creation by tomorrow. It was a great month of crafting.... Entering this into: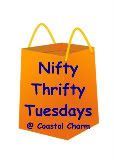 also my month display at Tinker Planet
MY GIVEAWAY IS ON THE RIGHT SIDEBAR........CLICK THERE TO TAKE YOU THERE...
Smiles....Tammy