I was in the mood to *sew* today. So I made this hat and scarf.
Actually I loved making the flowers and will have to make some smaller ones for scrapbooking.
Always fun to learn new things. The scarf has pleats too.
Will look sharp for winter this year.
Hope everyone is having a wonderful day.
I am getting my tissue ready for tonights "Deadliest Catch". When Phil Harris passes away.
I feel for his sons...Have been watching this show since it started along with Ice road Truckers.
Yep~in a house full of men go figure.
Watched a great movie last night Book Of Eli....Wow~ is all I can say!
Entered into a party over at: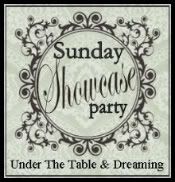 Have a blessed night!
smiles...Tammy