I have made something really neat.
I did the ironing technique on a VF bags. You have to make sure you have 8 layers folded and pressed between wax paper on both sides. Iron really well on one side and then flip over. I cut the access off when I stitched it together. I made this cute little holder for our toothbrushes and toothpaste. Which is handy for a trip. I then
embellished
it with buttons and flowers and ribbons and
bling
. Using my Gorilla glue to fasten them to the plastic. It held them great and dried crystal like (clear). Finished it off with
Velcro.
Note- always turn your bags inside out so it keeps the ink from messing.
Entered this in over at
Under the Table and Dreaming.
Let me know what you think of my little project.
smiles...Tammy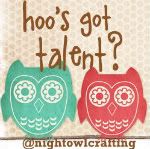 Entered it in a PRETTY PACKAGING PARTY OVER AT:
http://www.blackberryvine.blogspot.com/